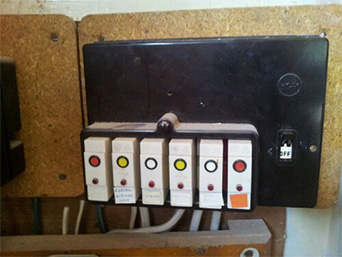 Does your current Fuse Box look like one of these?
What you see here are typical 1960's Wylex fuse boxes with rewirable Fuses. This type of fuse box is not RCD Protected & the fuses do not blow at the stated current carrying cpacity. ie a piece of 30 amp fuse wire may take double the amount of current before it blows. If you have a electrical mains fuse box that looks like this in Leeds it could be a tell tale sign you may need a rewire. Get in touch and get it checked out today.
MPS electrical can upgrade your fuse box and entire mains electrical distribution in Leeds, Wakefield, York & Harrogate for a fixed affordable price. All circuits have to be tested and will be inspected in accordance to the 18th Edition wiring regulations BS7671 to make sure all is in good working order. MPS will then issue a certificate which has to be a Electrical Installation Completion Certificate accompanied with a schedule of test results and a schedule of inspections.
If you have a replacement mains board then it must be accompanied with a Electrical Completion certificate. This will have a schedule of inspections & a schedule test results along with a front page that the Inspector signs. No certificate, Not done properly.
Completed Fuse Box Replacements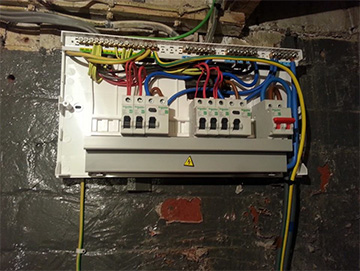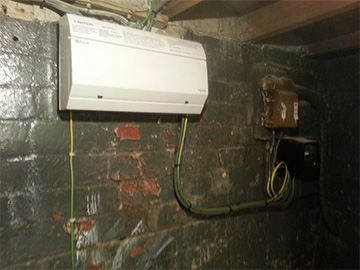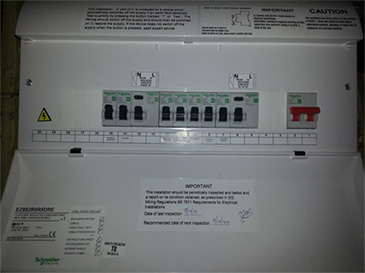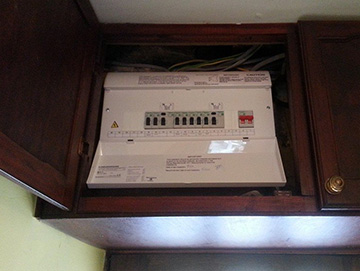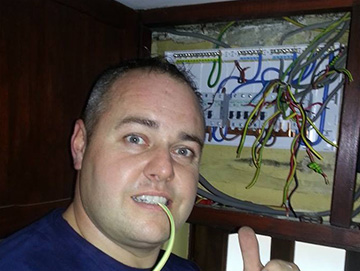 RCD/RCBO Ammendmant 3 metallic Fuse Box
RCD Fuse boxes come in two types which we offer, install and supply in Leeds - Bradford - Wakefield - York & Harrogate.

The first type of fuse box is a dual RCD fuse box, these are the budget type of fuse box because they incorporate two master RCD'S that control a bank of miniature circuit breakers, this means when the master RCD which is one of two operates under any fault conditions it isolates a complete bank of circuit breakers.

The second type of fuse box is what we recommend is the RCBO fuse box, the difference with this fuse box is each circuit breaker has its own RCD built into it, therefore any fault within the property if it occurs stays limited to the one RCBO that activates under fault conditions.
In either case the outer chasis has to be metal now and plastic pvc fuse boxes are not allowed, unless they themselves are in a cupboard which is fire proof, which none of us really tend to have in the home these days so a shift to metal fuse boxes is now what we have to do because the regulations changed on the grounds that plastic fuse boxes are combustable.
The drifference beyween dual RCD fuse boxes and RCBO fuse boxes which we recommend (RCBO)

Now imagine you have a dual RCD fuse box installed and a fault occurs on any of the sub circuits one of the RCD masters (one of two) occurs, this means a complete bank of circuit breakers will be isolated plunging you into powerless darkness. The fault could be over any of the sub circuits installed leaving you clueless and having to fault find multiple circuits in order for the master RCD to reset, trust it will not until you have fixed the offending circuit involved and this can be costly and time consuming as instead of a electrician fault finding the one circuit in order to restore power to the master RCD which in turn restores power to multiple circuits the master RCD governs you have to work through each one fault finding to find the offending culprit.

Now, with a RCBO board, if a fault develops, the one RCBO will trip off, so for example it says "Ground floor sockets" the electrician knows that something on the ground floor sockets is causing the issue so his/her time is limited to investigating that circuit instead of a complete bank of potential circuits affected. See what i mean in the difference in fuse boxes ?. Good read on.